DESIGN
Gas heaters are usually an eyesore with their large metal frames and they tend to take up a lot of space. BVG have
a range of stylish outdoor patio heaters that are designed to fit effortlessly into their surroundings, with the option of having your heater in any color or even custom branding for your company. We're designing for those who agree that compromise is never an option.
MAINTENANCE
Blue Vast Group infrared heaters are virtually maintenance free. They have no moving parts so there's no motor to wear out, air filters to replace or genuine maintenance required that is associated with most gas heaters. With an average lamp life of approximately 5000 hours, the BVG heaters can be installed and forgotten about.
OPERATING COSTS
The operating costs are calculable in advance and are lower than those of gas systems, given that almost all of the absorbed electrical energy is converted into heat, providing savings of over 30% compared to gas heaters. The reason that money can be saved using electric infrared heating is that infrared heat is much more effective at heating a person/object than a conventional gas heater.
It would take much less time for your customers to feel the benefits of the infrared heater than it would the gas heater. Why? Because simply the body feels warmer when under the influence of infrared heat than hot air. This is due to the shortwave infrared rays penetrating the skin and not just heating the air around.
With BVG infrared heaters, you don't have to wait for the heater to warm
up either so when you switch it on, you feel the heat straight away. This therefore reduces the amount of time it takes to heat up a person compared to gas heaters, which in turn means the heater will be on for less time (or reduced heat output) keeping your electricity bills low.
SAFETY
The gas 'mushroom' heater that you tend to see on terraces and in bars/restaurants are typically associated with the burden of lifting heavy gas bottles in and out every time it needs changing. 'Top of the Range' patio gas heaters are heavy and extremely hard to move around, which creates safety concerns when moving them.
Not only this, but you have the added chore of finding a safe place to store these gas bottles. This can prove a great safety issue especially in commercial areas such as restaurants and hotel terraces.
BVG infrared heaters are modular and compact, with no gas bottles to
replace or any harmful fumes emitted from them. Gas is beginning to be banned for these reasons in some locations such as Paris, Munchen and Dubai. Electric shortwave infrared heating is growing and will be the future of heating.
EASE OF USE
A BVG infrared heater is user friendly. Enjoying the warmth of our
heaters is as easy as flipping a switch, no preheating is required. You can adjust the heaters with our controllers from 0%-50%-75%-100% of power. By contrast, gas heaters cannot be controlled to these levels therefore only one setting is available.
SPACE
Pyramid gas heaters take up a lot of floor space, which in commercial restaurant environments takes away table allocation, and less tables means less revenues for the restaurant owner. For a big venue, you would need quite a few of these gas heaters to heat the floor area effectively.
BVG infrared heaters are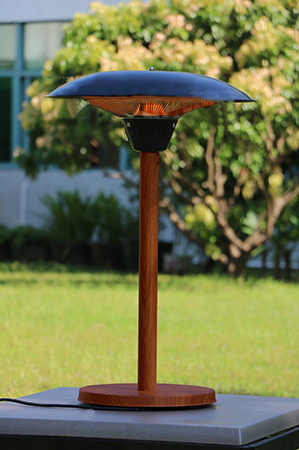 compact and having the option of being wall hung, ceiling hung or even recessed into the wall,they take up no floor space and can be installed outof eye-line so sometimes your
customers don't even know they're there, apart from feeling the warmth of course!
CONVENIENCE
With patio 'mushroom' gas heaters, the bottles need to be replaced, so they also have to be stored and stocks kept and then re-ordered regularly. This involves more man hours and is time consuming. Runwin infrared heaters are the perfect heating solution to this, offering the 'install & forget' heating system.
NO UNPLEASANT SMELL
With BVG electric heater you avoid the uncomfortable feeling you can get,
if there is a smell of gas, for example from a gas patio heater. The gas odour could make you doubt whether the gas heater is turned on correctly.